Welcome back to Inside Isorropia. It's been a glorious start to September thank goodness. I think we all feel so much happier when we are able to get outside and feel the warmth on our skin. It was somewhat unexpected, although I had mentioned in my previous post that an Indian summer would be nice. Did you know that strictly speaking, an Indian summer is actually only classed as such if it occurs after the first frost? So, it turns out, it was just a short spell of unseasonably warm weather!! Nevertheless, it went some way towards making up for August which, generally speaking, was on the disappointing side for many.
September marks the anniversary of our first visit to the Medina Valley Centre. It seems impossible to believe that a whole year has passed since then. There have been lots of changes along the way but things have fallen nicely into place in recent weeks, with our members now able to access all workshops on the Wellbeing Programme here at MVC, travelling on our very own Isorropia Foundation Minibus! This is making such a huge difference to our member experience and also for the workshop facilitators who now spend less time travelling. By far and away the biggest benefit to this way of working is that our members get to enjoy and experience the beautiful surroundings and the peaceful ambience of our riverside setting. We are getting lots of very positive feedback on both the bus service and the new workshop setting.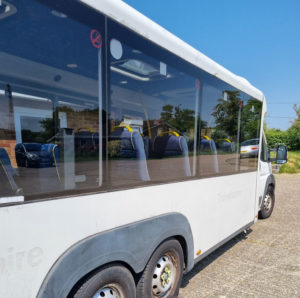 Awareness Days
You may have seen on our social media in recent weeks that we have been spreading awareness of Grief and Suicide Prevention. This was to coincide with the awareness days that are marked nationally and globally. Grief is a topic that is covered in our Foundation Course – The Gift. It also crops up within our workshop sessions from time to time, depending on the topic and what members are bringing with them on the day, in terms of current situations & circumstances, personal history, thoughts, feelings and emotions. Our Wellbeing Coaches are trained to be able to manage the workshops and whatever may come up during those sessions. Sadly, grief is a topic that will affect all of us at some point, and many of our members and the Isorropia team will have some personal experience of this already. Our team of coaches all have lived experience of mental health and often speak from those experiences when delivering a workshop or supporting a member on the Duty line. They do a wonderful job of listening, validating and empowering people, whatever they are going through. I was touched to read a piece of writing from our Wellbeing Coach Hannah, as we marked National Grief Awareness Day back at the end of August, as well as a lovely poem from Wellbeing Coach, Marie. It is my pleasure to share these with you here:
"Grief is something all of us go through at some point in our lives and something that isn't talked about enough. Whether that's the loss of a family member, friend, loved one or even a pet."Grief is something all of us go through at some point in our lives and something that isn't talked about enough. Whether that's the loss of a family member, friend, loved one or even a pet.

Throughout my life I have experienced grief in many different forms, relationships ending, loss of friendships, family breakdowns, losing my pets and death.

Before I came to work at Isorropia I worked in end of life care for many years and death and grief was something I dealt with daily and seeing the impact it has on people's loved ones.

For me personally, I lost my Grandpa, my best friend when I was 10 years old, He was 83. I remember someone once telling me grief is a cycle and you come out the other side. This is something I've come to realise isn't necessarily true. For me that grief will always be with me but it's how I've learnt to live with that grief is what is important.

Grief isn't a linear process, it's messy, it takes time and it's hard. It leaves you feeling lost, lonely, isolated and angry. This is absolutely valid. For me I go through that grief cycle regularly. There are some days where the pain is as if Grandpa had died yesterday and there are other days that it's just a little niggle in the back of my head. One important thing I have learnt through out my journey with grief is that grief, although it is one of the hardest things, is also a blessing. Grief for me, shows how much I loved Grandpa, how much he loved me, the incredible impact he had on my life and how truly lucky I am to have had him. For me, this has really helped me to move forward while living with grief and realise while it never leaves me, my life is a whole heap richer for Grandpa and my life can still progress in a wonderful way.

One final thing I've found helps is to talk about Grandpa. Whether that be with Mum, Grandma or even to people who never knew him. This makes me feel like he's still with me and keeps his memory alive even longer. Talk about the memories, the good ones and the bad ones, talk about how you are feeling or the stage of the grief journey you're on. Talking about it is so powerful.

Grandpa had cancer and was nursed by the truly phenomenal team at the Earl Mountbatten Hospice. Other family and friends have also been supported by their services. This is a place that I will always be eternally grateful for and in April next year I will be doing a wing walk to raise money for them to continue their work and in memory of my Grandpa."

Hannah (Wellbeing Coach)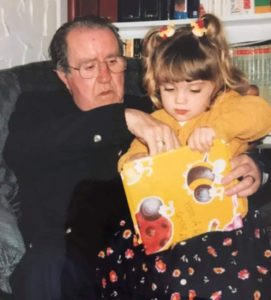 Grief never ends.

It is a passage, not a place to stay.

Grief is not a weakness, nor a lack of faith.

It is the price of love.

– Author Anonymous –
Shared by Marie (Wellbeing Coach)
If you would like to chat with our team about how the Wellbeing Programme might be helpful to you if you are an Island resident and currently processing grief or going through a bereavement, then do call: (01983) 217791 or take a look at our Instagram and Facebook pages for more information.
We were all delighted to receive feedback from one of our Graduate members last year, who turned to Isorropia for support following her husband's suicide. It was an honour and a pleasure to be able to make a difference for this lady at such a tragic time in her life. Thanks to her own commitment to the Wellbeing Programme and her own wellness, Louise was able to find a new sense of purpose in her life, and here she describes all the ways in which Isorropia helped her and how we have the potential to help you too:
Isorropia saved my life after I lost Pete. They taught me so much and through their support and guidance I was able to start to live again. This encompassed many things on the way. The constant support, encouragement, and educational tools they provided, helped me to learn to live my best life after what happened.

The team are amazing, each one with different lived experience, who are not only able to understand what you may be going through but are also able to provide you with coping mechanisms and strategies to support along the way.

Some of the most important things I learnt through my experience with Isorropia was:

I was not to blame for my husband's suicide
To accept that there are things I have no control over
That I do have self-worth, and my life has meaning and purpose
I was not responsible for what Pete did, but I am responsible for living my life
If you or anyone you know has experienced loss by suicide, Louise has set up a closed group on Facebook which you can join by searching 'Survivors of Suicide IOW' on Facebook and requesting to join. You can also watch the Facebook Live that Louise did with Deputy Lead Natalie Streets by following this link: CLICK HERE.
Blue Personalities
As you may recall, in July I shared some information about the colour Yellow, what a Yellow personality means and what that might look like. This time I'm shining the light on Blue.
Blue:

Blues are deep thinkers, analytical in nature, very detail focused and formal in their thinking. They can come across as being aloof, but are deliberate in their approach and systematic, precise and pays attention to detail. Blues like things in their place, and are very organised with good time management skills. They are sticklers for time and are capable of coming to their own conclusions without having examples of others pushed at them. They take their time in their thinking and are much slower paced than the reds or yellows. Blues can come across as perfectionists due to their logical, systematic, precise and deliberate approach to problems or solutions. Blues like to have all the facts, and then logically put together an answer that is suitable. They don't like vagueness, a lack of detail or an absence of facts or figures.

While taking their time and being thorough is important, sometimes we're working to tight deadlines and a fast turn around is necessary. In these instances, explain to blues the time frame and the importance of finishing a project. Be sure to offer support and explain the importance of prioritising and delegating tasks. This way they won't feel immense pressure and worry about burnout, but will understand that they need to pick up the pace – and will have help to do so, if necessary!

glurecruit.co.uk
Colours in the Isorropia Foundation Team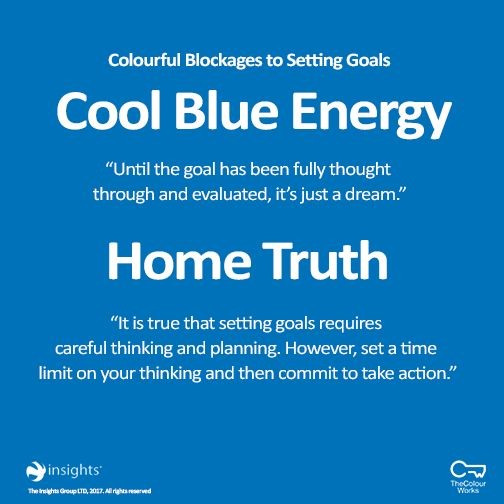 Blue was the colour that myself and Deputy Lead, Charlie Stevens, came out as being, having done the online personality test, along with our Tom and June in Admin, who are also Blue. This is what they had to say about how they identify with being a Blue personality:
Tom – "I'm Blue!
In fact, I'm so Blue that there are sapphires, birds over the White Cliffs of Dover, and the Danube that are less Blue than me! This has its pros and cons. I am great at detail, analysis, and planning.
But ask me to be spontaneous and experimental and … I'll get back to you next week with something tried and tested. I relate to the Blue personality type with its idealism of wanting a better world. This comes from our instinctive empathic nature. We have so much heart for fairness, peace and integrity. We firmly believe in honesty, but that can make us a bit blunt and seem too direct at times.
We can be really determined and focused when we (finally!) decide on our course of action. The downside is that can lead to inflexibility and an inability to adapt. Ask a Blue to just "wing it on the night" and watch our brains melt before you in utter confusion. Since we're driven largely by emotional factors – like doing what's right, compassionate and just – we can slip into being overly sensitive. We don't always show it on the surface, but we really feel things deeply. So, if the emotions get overwhelming, we aren't at our best in terms of our performance. I guess what we Blues need most is to feel understood, valued, appreciated and accepted. Which, although that's also true of most people generally, I just need to remember to be grateful that at Isorropia, I get those needs met every day."
June – "I was a blue!
I was practical and focused and not a lot of creative vision but enjoy the fruition of others with this gift."
Charlie S – "Blue, through and through!
Attention to detail, methodical and logical, processed, precise, calm, cautious and considered… some would describe as faffing, some might say slow!"
Lucy (Yours truly!) – "100% Blue on the test!
I also had a second colour that was a strong 70%. I would say there are a whole lot of blue traits running through me and my way of working; being so cautious and considered does tend to hamper my speed at times, but I have high standards around the finer details (which I see as a positive). Interestingly, I also feel very connected to the secondary colour in my results. Stay tuned to upcoming posts to find out what it is."
Benefits of Blue in Nature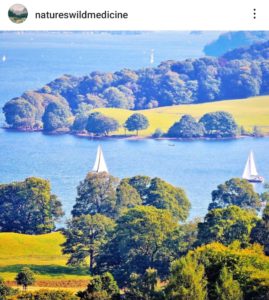 I'm sure you have all been making the most of the good weather and getting outside, hopefully in nature, but wherever you can really, to get the fresh air and goodness from being outdoors. I recently read about 'Blue Mind Theory' whilst scrolling through Instagram and wondered have you heard of it too? I follow a lovely account called Nature's Wild Medicine (@natureswildmedicine) and one particular post grabbed my attention. It was this photo that initially caught my eye (see above) as with many of the posts on their page, but the caption was so interesting. According to the writer, the benefits of getting out near a body of water are huge, both for mental and physical health. This idea is based on Dr. Wallace Nicholas's theory which suggests being on, around or in water can get you into a 'Blue Mind' state. This is described as being 'mildly meditative, characterised by peacefulness, unity, and a sense of general happiness and satisfaction with life in the moment'. Have you ever noticed that you feel better in any way if you are walking along the beach, sat by a lake, or taking a dip in the pool? I know for certain that this is one of the safest bets for me if I'm needing to get my mood back up or if I'm feeling a bit 'out of sorts'. I never really knew why, but now I do! This kind of stress relief and relaxation is literally on our doorstep here on the Isle of Wight, and, unless you swim in a public pool, accessing this is completely free! Let me know in the comments where your favourite blue water place is and what you most like to do there. Charlie happily shared that his favourite place to be is Croatia, 2 metres below the Mediterranean! He goes on to say:
"Quite specific, but I love the tranquillity of diving into the sea and having absolutely nothing to disturb you. Serene, calm, just you and the ocean, bloomin' love it!"

Charlie Stevens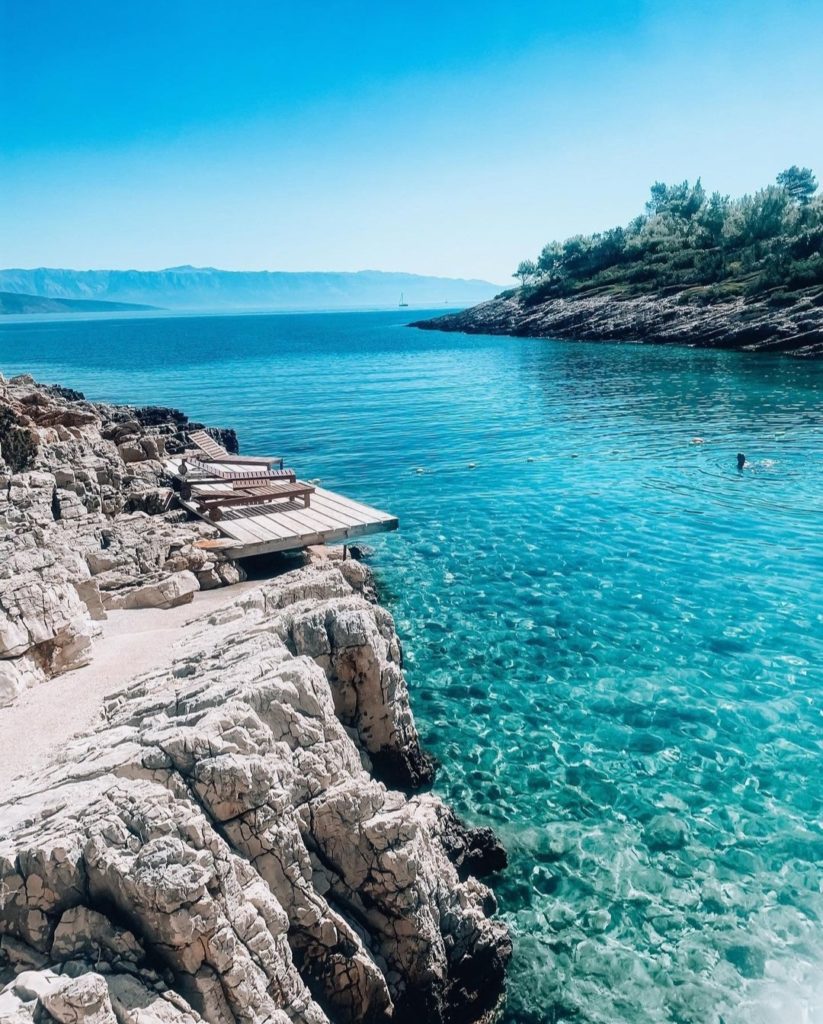 Local Celebrations
I can strongly recommend making use of the Waterside Pool in Ryde. They have recently celebrated their 50th Anniversary and I was interested to read that it started out as an open-air lido with three separate pools. It made me think how lovely that would be on the long, hot, dry days of summer and took me back to memories of my childhood when we would go as a family to @hilsealido back when I lived on the mainland. It has been well-documented how hard it is for these facilities to stay open, and communities and councils have to work tirelessly to ensure that they survive (check out: https://www.bbc.co.uk/news/uk-england-hampshire-65056493.amp for more information about the challenges faced across the Solent in Portsmouth) Hilsea Lido is set to reopen in 2025 to mark their 90th anniversary. And what a celebration that will be!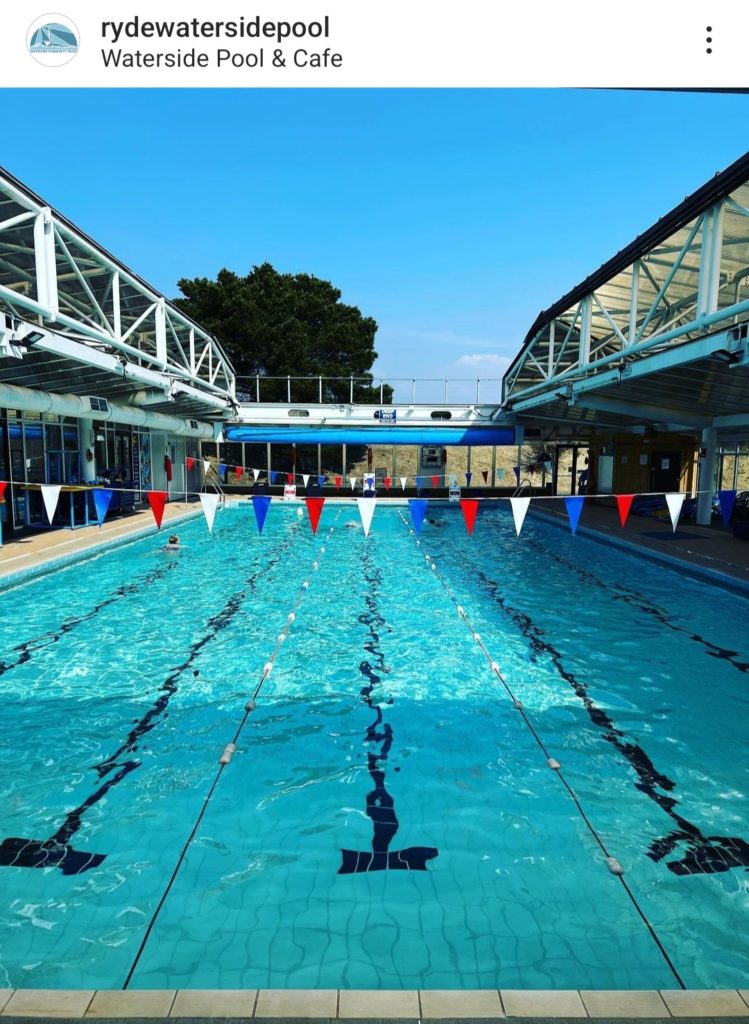 I'm actually very happy indeed that our pool @rydewatersidepool now has a brick building and the novelty of an opening roof. It means we can enjoy the facility year-round with the best of both worlds – an open roof when the sun is shining and the weather is warm and the option to still swim in the cooler months regardless of the weather. Surely, that is a very wonderful thing for our Island-dwellers; how lucky we are! You can read more about the pool and the anniversary by clicking HERE.
There is further good news for fans of outdoor swimming, in the form of exciting plans for a sea pool at Sandown, including a science centre and facilities to carry out daily water testing; a fantastic idea, given the ongoing concerns around sea pollution. Click HERE to find out more details and, Island residents, be sure to join in the consultation by completing this survey http://swimthewight.org.uk/seapool (deadline is the end of September)
This brings me to the end of September's edition. I hope you have enjoyed reading along. If you would like to find out your colour personality, click HERE for the free online test that we used.
If you have any comments about any of the topics covered please feel free to share. If you would like to find out more about Isorropia Foundation, either for yourself or someone you know who could benefit from our Wellbeing Programme, then give our Wellbeing Coaches a call on 01983 217791. We currently have no waiting list, so the help you need is literally a phone call away.
Enjoy this weather everyone, and make the most of the warmth and the sunshine while we still can (I know I will be!) Until next time,
Lucy xx
Hi everyone and welcome back to 'Inside Isorropia – The Blog'
We now find ourselves in February and after some very cold and frosty winter mornings down at Medina Valley Centre, we are looking forward to longer days and more sunshine as we head towards Spring. Our team are still very much awed by the beauty of the river and trying to capture that beauty in photographs is becoming a shared hobby for all of us. I have it on good authority that two of our Wellbeing Coaches have recently enrolled on a Photography course, so this could well lead to some healthy competition developing; maybe we should create a photo gallery at MVC to showcase our wonderful setting and our talented team members?! Or I could invite them all to submit a photo – the best of which could be featured in the next blog post. I do love to see creativity being explored and developed and I think it would be lovely to share the results with you all too. What do you think?
Our Keys
The basis of everything we do at Isorropia Foundation lies in our ethos and core values which are neatly packaged into our Five Keys to Wellbeing (See 'Our Core Values' page). Much of what we do is about empowering people. We want everyone to feel welcome, seen, heard and valued. We hear all too often from members that these things have been missing in their lives, despite often having been through many other services in their mental health journeys. Others may be feeling that they have exhausted all options open to them in their existing social circles. Often we work with those who either a) don't have an existing support network or b) feel misunderstood or isolated within their own family or circle of friends. This is something we address early on here at Isorropia so as to get our members off to the best possible start with lots of hope and positivity for a brighter-looking future.
Belonging
Belonging has been of particular interest to Psychologists since the pioneering work of Abraham Maslow and his Hierarchy of Needs, way back in 1943 (See image below). However, studies continue to be done right up to the current day ("Researchers identify a potential neural signature of social belonging" Psypost.org 12/02/23) In this article it was stated that: "Belonging to social groups is one of the basic emotional needs people have. It is crucial for a person's mental health and wellbeing". This should come as no surprise to our members because we talk about this frequently throughout our programme of workshops.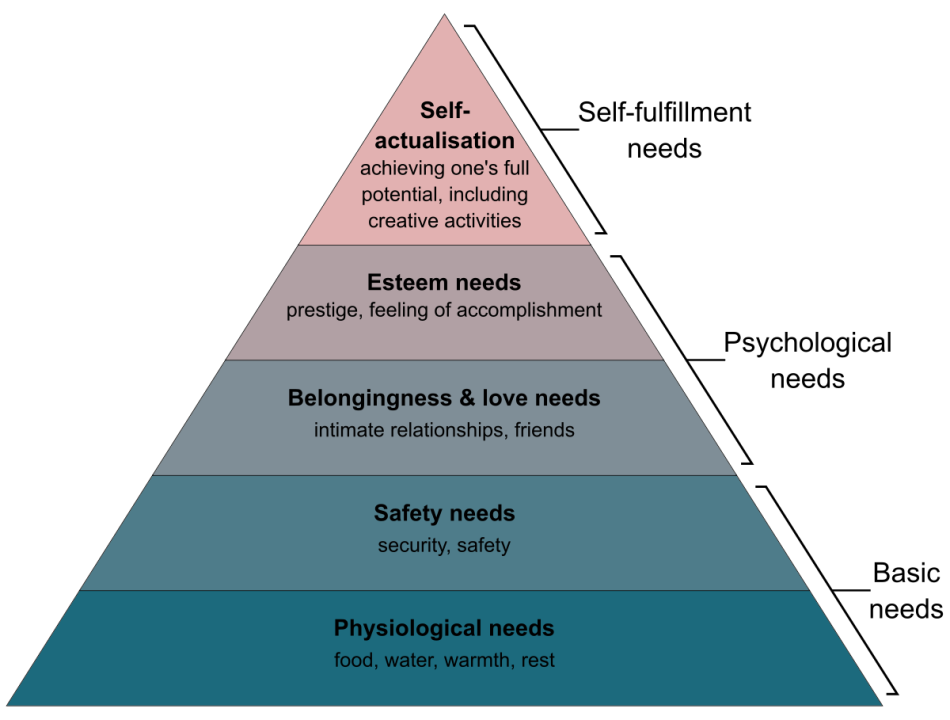 Dictionary definitions describe belonging as this:
'a sense of fitting in and feeling like an important member of a group'

vocabulary.com
'a feeling of being happy or comfortable as part of a particular group and having good relationships with the other members because they welcome you and accept you'

dictionary.cambridge.org
Right from the outset, our work with members is group based. We find this environment works incredibly well for people, despite their initial (and understandable) anxieties. Members are made aware that they are all in the same or similar situations; we often refer to this as experiencing 'the same storm in different boats'. Members often report feeling comforted in knowing that they are amongst others who can easily relate to and identify with what they are going through, including the facilitating staff (see 'Meet the Team' to discover more about the lived experience of our Wellbeing Coaches). As recent as the last workshop I facilitated, members have highlighted a strength of the group dynamic being the realisation that they are not alone.
We believe that a sense of belonging continues to grow and develop throughout the Wellbeing Programme through the provision of regular and continued opportunities for member engagement, both in workshops and at our Wellbeing Fayres (previously known as Pamper Days). Following on from this, there are a multitude of activities available to our members in the Community side of Isorropia (Community Umbrella) and this is where friendships really begin to form and connections strengthen. The feeling of belonging that comes from being part of Isorropia plays an enormous role in raising the confidence of our members. They grow in confidence as individuals, but often as a result of feeling the support of other members who journey alongside them. One member described having 'found my tribe' which illustrates this point beautifully. Our Community Engagement volunteer, Tasha West calls them 'The Isorropia Army'.
Community
'A social group whose members have something in common'

dictionary.com
'People who are considered as a unit because of their common interests or social group'

dictionary.cambridge.org
For us at Isorropia Foundation, this unifying factor or 'commonality', is that our members have collectively reached a significant point in their wellness journey i.e.) they have graduated from the Wellbeing Programme into Isorropia's Community Umbrella. It is at this point that members are more likely to have formed strong social connections and are sufficiently equipped to manage their own ongoing mental health and wellbeing.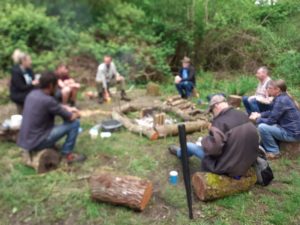 Being immersed in a group of like-minded people with common interests is empowering and it does amazing things for our wellbeing! It is no surprise then that 'Relating' has been identified by actionforhappiness.org as one of the '10 Keys to Happier Living':
"The people around you offer a valuable pool of support so it's important to put time into strengthening those connections"
I think there is much more to it though than simply having people around you who can offer support. Have you ever been part of a group who have worked together to accomplish something? I know I have and I believe it is this that really makes the difference – there needs to be something special that bonds you together, don't you think? None of the definitions above celebrates the wonderful feeling that comes from being part of a community. Our members report experiencing a collective feeling of achievement, at having completed something so important and so powerful together and this can be incredibly bonding for them (some of whom may not have completed anything before, as an individual or as a group and may also feel they have nothing at all to be proud of). We pride ourselves on creating a friendly, non-judgmental environment for our members where they feel safe to explore and grow by gradually building the courage to push themselves out of their comfort zones. Members do the hard work; we are simply there as a safety net and that's what enables such positive results.
Some of the comments and compliments we have received thus far as an organisation allude to the points raised above. For example:
"I'm enjoying being a part of something again. Something only Isorropia can provide…community."
"Before Isorropia I had become a recluse. Since being an Isorropia Graduate I now attend two social groups. They're my therapy."
"I thought the whole programme was brilliant and so useful. I found a sense of connection with others."
"I feel connected to others and know that I can talk and open up to others."
"The Pamper Day has allowed me to tap into things I used to love doing. Isorropia and the community gave me the confidence to push myself."
It isn't just Isorropia community groups that our members have access to. Once they reach the point of completing The Gift Course they are also invited to join Isorropia's online community on Facebook, which offers another form of social connection for members. This has been particularly helpful for those who face challenges in attending social groups due to limitations around availability, transport or mobility.
We also encourage and empower our members to connect with the wider Island community whenever they feel ready to do so. If you pop by to read the next instalment of Inside Isorropia you can look forward to learning more about what our Community Umbrella has to offer and the different ways our members can benefit and get involved. I shall also shine a light on some of the wonderful contributions our members have already made within our unique community.
If you are interested in (or you know someone else who could benefit from) what we have to offer, then please do get in touch. We would love to hear from you…
Until next time,
Lucy xx
P.S.
Before I go, did any of you see this recent photo release of the Princess of Wales from when she was a baby? It was released as part of her #ShapingUs campaign designed to start conversations about early childhood. I managed to find a picture of myself, taken in 1984 at a guess, and it got me thinking about the communities myself and my family were part of at that time. So, here's a little challenge for you – see if you can dig out a photo or two of yourself or your children (aged under 5 years) and have them to hand, ready for the next post…I have a plan!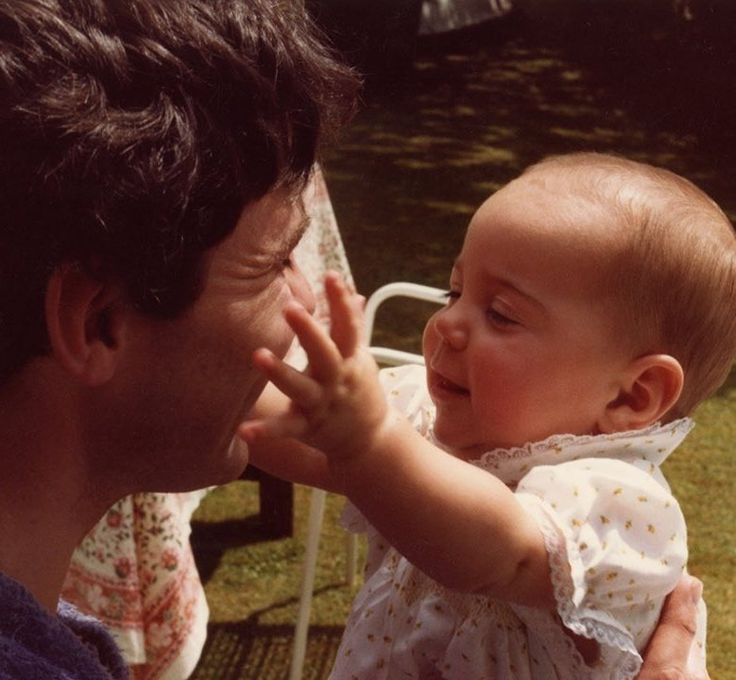 Comments
Wonderful piece Lucy!
I shall start digging today 😀

A really interesting piece and so true in my case. I certainly have felt a sense of belonging from attending the weekly well-being wander which has led me to more confidence in myself. Though always a work in progress, I find huge comfort in not being isolated. The kindness and welcoming approach of both members and well-being coaches alike over the last 15 months has significantly aided my recovery.

A lovely piece on "belonging" it really home to me today as it was the first meeting after "The Gift" and this sense of belonging really came home to me as an only child and at 73 I,ve in away felt isolated never really belonging to anything.It certainly taken a long time but I think you'll agree only being on The Island 9 months through isorropia I feel a genuine comfort feeling of belonging, thank you all at isorropia.